Paddington Bed Base
Our Paddington Bed Base just won a Good Design Award!
Sourced sustainably, rest comfortably knowing you've made the right choice for you and the environment.
Free & Fast Delivery
On your doorstep quick-smart and free of charge.
120 Night Trial
Get to know us before taking the plunge.
5-year Warranty
Paddington Bed Base comes with a 5-year Koala warranty.
Good Design Award Winner 2021
Padded sides means added protection. Plus, made from recycled plastic bottles and sourced from sustainable timber, you can put your head back and sleep with a clear conscience.
Paddington Bed Base
Product Details
The bed base that covers all bases
Padded sides means added protection. Plus, made from recycled plastic bottles and sourced from sustainable timber, you can put your head back and sleep with a clear conscience.
Make your bed in minutes
How many other bed bases can be quickly assembled without the need for tools? Fairly certain there's only one — and we make that one too.
No flimsy slats
Sturdy panel slats once fixed to the bed base provide a solid base for your mattress, for a solid night's sleep.
Laid back luxury
The perfectly-angled upholstered headboard was made for brekkie in bed and late-night reading. And just behind it, there's a handy storage shelf for you to stash your pillows and charge your gizmos.
Avoid shinjuries
Banging your shins on the bed frame might just be the most painful thing on Earth (besides stepping on Lego). The Paddington Bed Base is designed with cushy upholstered side rails to keep things from going bump in the night.
Comfort with a conscience
Sleeping should be done with a clear conscience. Sourced from recycled polyester, including recycled plastic bottles, the Koala Paddington Bed Base contains 33% REPREVE™ fibre which means more of the good stuff.
The bed base that's safe to embrace
Stay cosy knowing the Paddington has been tested to our strict standards to ensure VOCs are kept to a minimum.
Extra room down under
Floating well off the floor, the bed base offers plenty of space underneath for storage and easy vacuuming.
We are a part of 1% for the Planet
We put our money where our mouth is. We're the only Australian mattress and furniture retailer that supports 1% for the Planet, which means we give away one percent of gross sales annually for the good of the planet, people and animals.
We're proudly a B-Corp business
We're proud to be B-Corp certified, which means we stick to the highest social and environmental standards. We're stoked to be a part of a group of companies working together to build a more inclusive and sustainable economy.
The good wood
Rest easy legends, because this product is FSC® Certified. Furniture made with wood certified to FSC® (Forest Stewardship Council) standards comes from responsibly managed forests, so the planet thanks you for getting comfy with Koala.
Reviews
Base is ok..stylish altho it
Base is ok..stylish altho it could come in different colours other than grey
love love love
the Paddington Bed base is stylish and well designed. Definitely worth the money After a hard day at work. My Son's sleep has improved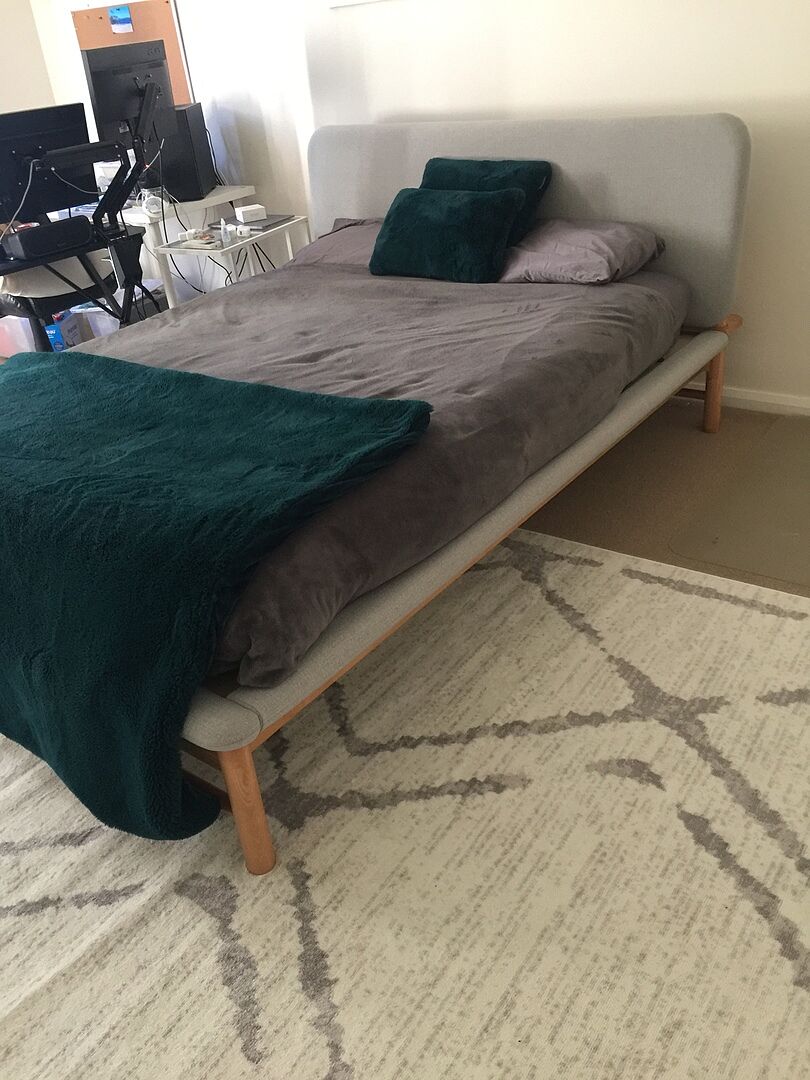 Looks great! Delivery came on
Looks great! Delivery came on time!
A big upgrade
- I upgraded to this from a cheap as chips broken bed frame, and oh geez, it is pretty sturdy, makes the mattress feel firmer, which is very lovely. - As others say, it has a smell. I'd say it's like a fresh MDF smell, and it can be unpleasant. For me, I can only smell it if I stick my nose into the upholstery. - I also wish that the mattress sat lower in the frame.
Such an easy purchase.
Received the day after I placed the order and was assembled well within the hour. Feels secure and love the shelf behind for storing cushions. Still waiting for the mattress, sadly. Looking forward to seeing the finished result. Will definitely order from Koala again.
Frequently Asked Questions
You can find assembly instructions here or watch our assembly video here (links to come)
Yes, no animal products are used in the production of the Paddington Bed Base.
Regular Care (Weekly)
-Vacuum regularly using low suction
-Protect from direct sunlight
-Dust timber components
-Spot clean fabric with damp cloth and mild detergent only
PHONE
1800 KSLEEP
(1800 575 337)
Mon-Fri 8am-6pm AEST
Saturday 10am-5pm AEST
Sunday Closed
LIVE CHAT
Chat with us
Mon-Fri 8am-10pm AEST
Sat-Sun 10am-5pm AEST