Modern Sofa with Chaise
The perfect spot for a cheeky arvo nap or to perch your feet up, our modular chaise sofa is made for any room in the house.
Free & Fast Delivery
On your doorstep quick-smart and free of charge.
120 Night Trial
Get to know us before taking the plunge.
5-year Warranty
Modern Sofa with Chaise comes with a 5-year Koala warranty.
Modern Sofa with Chaise
Product Details
Snuggable, nappable, and just so bloody comfortable
You shouldn't have to wait 14 weeks for your chaise, in metro areas ours is knocking on your doorstep free of charge in just 4 short hours. With the perfect spot to put your feet up, the Koala Modern Sofa Chaise is comfy for the entire family.
A modern chaise for a modern family
Real estate in the living room will always be up for grabs. When it comes to scoring prime positioning on our comfy chaise, it's a case of first in, best dressed.
Comfy for the entire family
At Koala, sitting, napping and snuggling is serious business. We're chuffed to say that we've created a chaise that sorts out the entire family.
A sofa that moves without the mayhem
A sofa shouldn't slow you down. No tools means it's assembled and disassembled without the whining. Put simply, our sofa is designed to move with you.
Iconically Aussie colours
We're all about those natural hues and cheeky tones that make our nation a designer's playground. Our modern sofa comes in Hawky, a creamy beige tan that's better than the froth on a schooner, and Arvo Storm, a stunning silver
Every purchase supports WWF.
Since 2015 we've donated over $2 million to charities - including our ongoing partnership with WWF-Australia, donating over $1.3million since 2017 to help koalas, green sea turtles and glossy black-cockatoos.
Foam you can feel good about
Fitted with CertiPUR-US® certified polyurethane foam, get comfy knowing that it's made without ozone depletes or formaldehyde, and better yet it's low VOC.
We are a part of 1% for the Planet
We put our money where our mouth is. We're the only Australian mattress and furniture retailer that supports 1% for the Planet, which means we give away one percent of gross sales annually for the good of the planet, people and animals.
We're proudly a B-Corp business
We're proud to be B-Corp certified, which means we stick to the highest social and environmental standards. We're stoked to be a part of a group of companies working together to build a more inclusive and sustainable economy.
The good wood
Rest easy legends, because this product is FSC® Certified. Furniture made with wood certified to FSC® (Forest Stewardship Council) standards comes from responsibly managed forests, so the planet thanks you for getting comfy with Koala.
Reviews
Super impressed, looks luxurious, very
Super impressed, looks luxurious, very comfortable, hope it stays like this as time goes on
Good
Is very nice looking, the fabric is nice and it was nice and easy to put it together. Is not the most comfortable ever although I do recommend it when it comes to a price-quality expectation. We also got two super cute toy turtles as a surprise :) I'm happy with my purchase overall.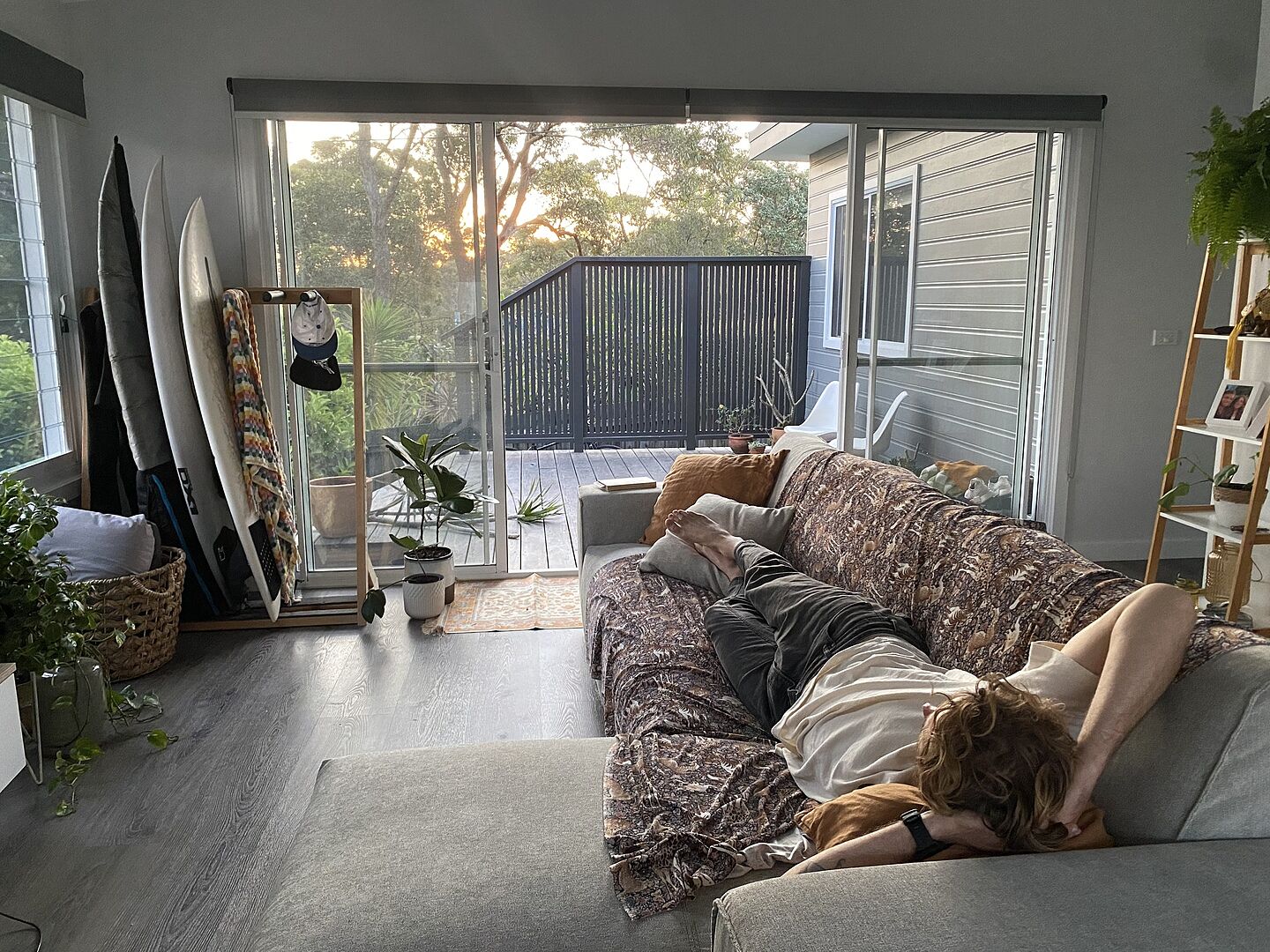 Great Sofa, Too much packaging
The sofa is great and super comfortable! Got it in the colour Arvo Storm which is a perfect shade of grey. Delivery arrived on time and assembly was super simple - assembled it by myself in 40 mins. I saw a couple of people mentioning that the fabric was a bit loose but this could be easily fixed as the cover is velcro. I was initially worried that the sofa would be hard to clean but since they're all individual pieces, I don't think this would be an issue at all. The only con I wanted to mention is the huge amount of boxes that it came in - each piece of the sofa had its own individual box and wrapped in lots of plastic. Adopting a turtle is a great bonus but I think Koala could also improve their sustainability efforts by reviewing the amount of packaging their product came in.
Modern Modular Sofa
Love love love this couch. Comfy and a perfect fit in our lounge area.
Modern modular sofa
Not the standard of quality I've previously got from Koala, not that comfortable, build quality average, fabric tensioning system poor. Not a $2700 couch.
Frequently Asked Questions
Covers should not be removed for cleaning. Please follow the care instructions in the upkeep of the sofa and you will be able to maintain the new condition of your fabric sofa for many years to come. If you have any questions about the upkeep of your piece, don't hesitate to get in touch and our team will be happy to help.
If you are finding the cover looks a little loose it can be repositioned as it is held with velcro underneath the sofa.
The best place to try the Modern Sofa is in the comfort of your own home! We offer a risk-free 120-night trial so if you buy the sofa and don't love it, you can return it for a full refund. In Sydney, Melbourne, Brisbane, Adelaide and Perth, we'll even pay for return shipping, or pick up your return for free.
PHONE
1800 KSLEEP
(1800 575 337)
Mon-Fri 8am-6pm AEST
Saturday 10am-5pm AEST
Sunday Closed
LIVE CHAT
Chat with us
Mon-Fri 8am-10pm AEST
Sat-Sun 10am-5pm AEST