Curved Dining Chair (Set of 2)
Built for your buns and your back, the Koala Curved Dining Chair brings all your friends and family to the table. Sold in multiples of 2
Curved Dining Chair (Set of 2)
Built for your buns and your back, the Koala Curved Dining Chair brings all your friends and family to the table. Sold in multiples of 2
Free & Fast Delivery
On your doorstep quick-smart and free of charge.
120 Night Trial
Get to know us before taking the plunge.
5-year Warranty
Curved Dining Chair comes with a 5-year Koala warranty.
Curved Dining Chair
Product Details
Settle in for a session
Made with durable fabric, whatever your beloved guests get up to, or however long they stay, the comfy as Koala Curved Dining Chair will go the distance.
Hugs like a Koala
We designed the Koala Curved Dining Chair with our furry friends in mind. With the perfect blend of Australian design and famous Koala comfort, you'll have support all round.
Built for your buns and your back
Curved to your buns, and your back, the Koala Curved Dining Chair allows you to fall into a cloud-like lumbar, giving you that next-level comfort so you can dine the night away.
Made for messy eaters
Some in this world struggle to eat within the boundary of a plate and that's okay. We know that spills are a part of life, so we created a fabric for the real world.
We are a part of 1% for the Planet
We put our money where our mouth is. We're the only Australian mattress and furniture retailer that supports 1% for the Planet, which means we give away one percent of gross sales annually for the good of the planet, people and animals.
We're proudly a B-Corp business
We're proud to be B-Corp certified, which means we stick to the highest social and environmental standards. We're stoked to be a part of a group of companies working together to build a more inclusive and sustainable economy.
Foam you can feel good about
Fitted with CertiPUR-US® certified polyurethane foam, get comfy knowing that it's made without ozone depletes or formaldehyde, and better yet it's low VOC.
Reviews
Easy to assemble comfortable to
Easy to assemble comfortable to sit on
Love it!
So much praise for Koala. I placed an order at 11pm and it arrived the next day 2pm. The delivery was not only on time, it was well packed. It was very easy to assemble as well and most importantly, I love how it looks in my dining and it was very comfortable. Thank you Koala for such a great online buying experience! Can't wait for my office chair to arrive next!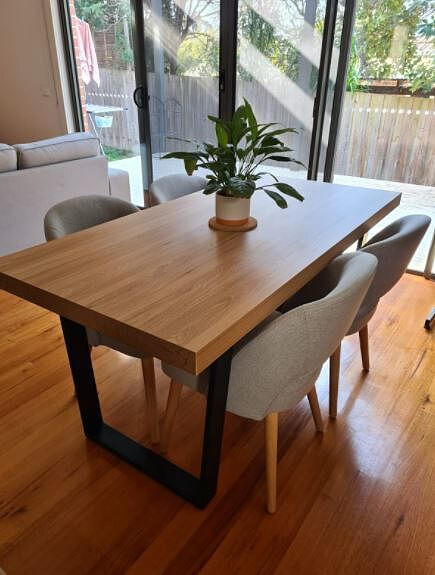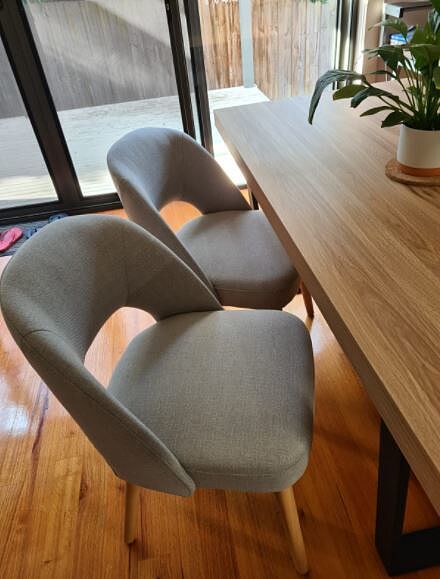 Curved back dining chairs
I love my curved back dining chairs, they support my lower back, look great and love the workmanship. I ordered at 8.30am and they were delivered at 3pm. Very impressive! Ordering online was so easy too.
Very comfortable and easy to
Very comfortable and easy to put together. I'm really happy with these chairs.
Love the chairs!
Put the order just before lunch. Chairs were delivered around 5.30! Very happy with the design, the color and the choice of the fabric! Easy to put together and very comfortable!
Frequently Asked Questions
We recommend a maximum weight capacity of 120kg
Spot clean any spills by blotting with a clean cloth. Avoid rubbing and allowing spills to dry. If further cleaning is required use a clean cloth and mild, warm, soapy water solution using non coloured soap flakes. Do not soak. Dry in share away from direct heat and sunlight.

If you slightly loosen the gumnuts underneath the chair, and then apply weight or sit on the chair for about 30 seconds and re-tighten the gumnuts this should level out your chair. We also recommend that you check the floor you are using the chair on, as some floors are a little bit more uneven than others!
PHONE
1800 KSLEEP
(1800 575 337)
Mon-Fri 8am-6pm AEST
Saturday 10am-5pm AEST
Sunday Closed
LIVE CHAT
Chat with us
Mon-Fri 8am-10pm AEST
Sat-Sun 10am-5pm AEST